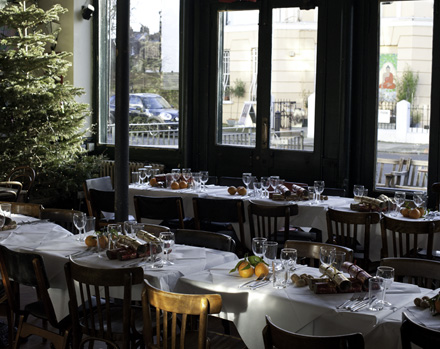 The Westbourne hits the spot when it comes to Christmas parties, as it should given that we've been putting them on for over 20 years.
It has an easy going, relaxed atmosphere, with great food and drinks including new and well known craft beers, ales and wines. We get a big tree and decorate the place with lots of hand made chains creating a great homely scene where friends and colleagues can meet, talk and be able to move around, catching up with each other. We are a flexible team and are happy to work with you to make your lunch, dinner or event work the way you would like it to, including helping with any dietary requirements.
Starters
Jerusalem Artichoke Soup with Crème Fraiche
Roasted Cauliflower and Hazelnut Salad
Bresaola with Watercress, Shallots & Balsamic Vinegar
Chicken & Pork Terrine with Chutney, Cornichons & Toast
Twice-Baked Goat's Cheese Souffle with Apple & Walnut Salad
Braised Octopus with Fennel & Gremolata
Main Courses
Westbourne Fish Stew
Herb Crusted Cod Fillet
Roast Turkey
Venison Stew
Char-Grilled Onglet Steak
Pappardelle Pasta with Wild Mushrooms, Cream, Parmesan & Truffle Oul
All served with Winter Vegetables
Desserts
Lemon Cheese Cake with Fruit Compote
Sticky Toffee Pudding with Vanilla Ice Cream
Gluten Free Chocolate Cake with Crème Fraiche
Stilton Cheese with Oatcakes, Apple & Chutney
Vegan options are available.
Three courses £29.50 (two for £24) including seasonal nuts, satsumas, coffee and chocolates.
Service is up to you, an optional service charge of 12.5% will be added for groups of six or more and of course all tips are shared equally amongst the staff.
Please note some small print: this menu is only available for bookings made in advance. Midweek lunches in the run up to Christmas are particularly busy, so call to discuss your party and book early to avoid disappointment. Whilst we are happy to accept a pencil booking, we will require a £10 deposit per person to confirm the booking. We are flexible, we know numbers can change etc, but we find a deposit focuses the mind. Naturally the deposit comes off the final bill, which is payable on the day or in advance if that suits you better. We will need your group's menu choices at least 48 hours in advance.
To make a booking or to discuss your event please call 020 7221 1332 or send an email from the side bar on the left.