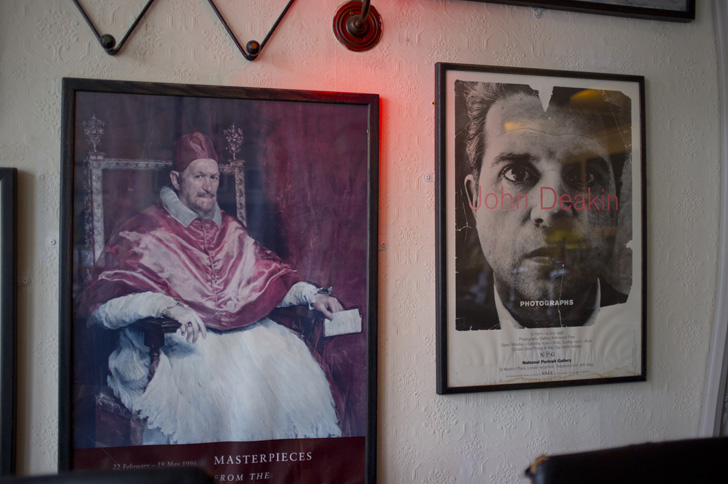 I really like the atmosphere, but it's the food that I fell for. It can be a pretty fancy menu. I love it because you can get anything from bangers and mash to the sort of thing you might find in a Delia Smith cookbook. It's always a bit of a treat… The place looks more like a home than a pub… and all the little details bring the place to life so it becomes more than a pub, more than a restaurant. It really is a social meeting place.
Erin O'Connor, Observer Food Monthly
Should you ever find the place empty, a quick gander at the magazine rack of this (usually rammed) bistrobar, gives a fair indication of the regular clientele: Wallpaper, Elle Deco, Vogue… But both staff and punters are friendlier and less pretentious than you might expect. The one big room has a bay of comfy sofas to the left of the zinc bar. Hoegaarden, Leffe, Staropramen and Beck's Vier are on tap, plus Timothy Taylor Landlord and guest ales (Daleside Gravesend Shrimpers on a recent visit). There's also a reasonable wine list to accompany the superior gastro menu. This changes twice a day and is big on seafood and organic British breeds. There's also a large terrace with lots of seating.
Time Out Bars, Pubs & Clubs Guide 2008/9
Cooking is robust modern British and the ingredients used are the freshest: oysters, game terrine with onion marmalade, pot roasted pheasant, Old Spot pork chop with butter beans, chorizo, black cabbage and red wine sauce. All sorts love it here – including those who've been coming for 30 years.
Alastair Sawday's Special Places: Pubs & Inns of England & Wales

It is often hard to discern the features of this perpetually packed pub. During the evening it's standing room only… But if you turn up during the afternoon the place is hangover quiet and you can sit in the bar or outside on the benches. try artichoke, watercress, fritata, and red onion salad or grilled calf's liver with bacon, sauteed potatoes and fennel puree.
Gourmet magazine on London Pubs, Real Ale and Good Grub